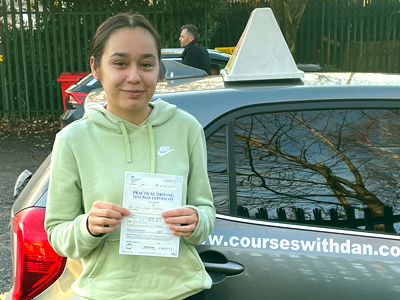 Kiera S
First time pass
Thank you so much It's been amazing learning with you made me feel comfortable and confident driving and the resource's helped me pass my theory and practical first time you've been a great instructor thank you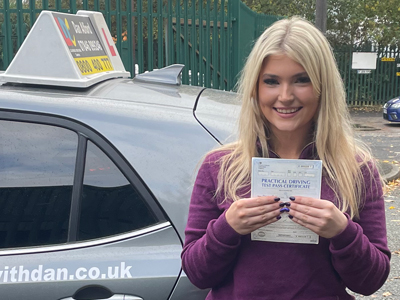 Rebecca Lovelock
Passed first time
Dan has truly excelled as my driving instructor. His remarkable patience and empathetic teaching style, coupled with his easygoing nature, make him easy to connect with and learn from. Despite his great sense of humour, he maintains a professional learning environment. His commitment to my progress ensured that I passed my driving test on my first attempt. He also equipped me with all the essential knowledge to excel in my theory test. I am genuinely so happy with our choice of Dan as my instructor, and I recommend him for anyone looking to learn to drive. Thank you Dan!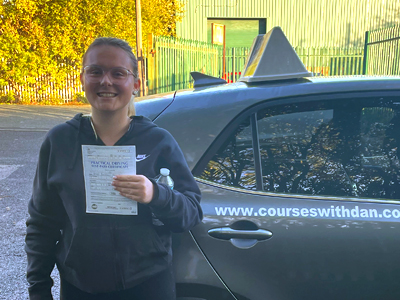 Beth Kay
Passed with only 4 faults
I started learning with Dan 18 months ago and I was a nervous wreck! Dan made me so comfortable and every lesson we had such a laugh, really appreciate how supportive and patient he has been with me as I know I am a customer he has had for a long time. I've not only learnt how to drive safely but I've also gained so much confidence thanks to him!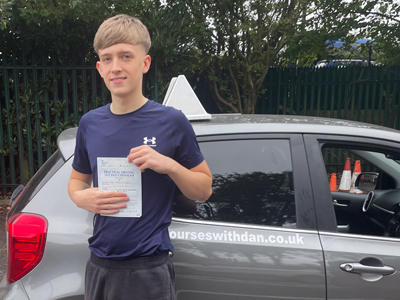 Jake Williams
1st time pass
Dan is a great instructor who is patient and can have a laugh. He made me into a confident driver and i can not thank him enough. Would highly recommend Dan for lessons.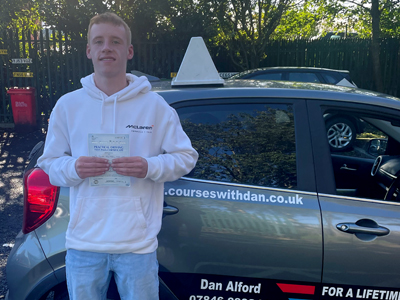 Henry Maguire
1st time pass
Dan is very clear with his instructions making it easier for me to learn. Also his technique is easy to memorise and understand. He is very calm and patient and explains clearly when you have done something wrong. I passed first time and Dan was my only driving instructor. Highly recommended. Thanks Dan for helping me gain the confidence on the road which has helped me to pass my test with only 3 minors!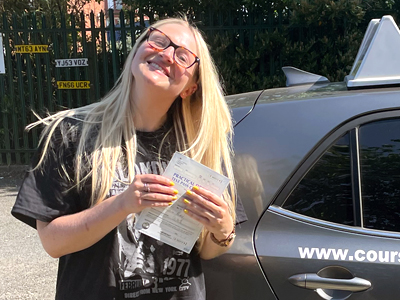 Louise C
Passed 1st time
Enjoyed Dans lessons and would strongly recommend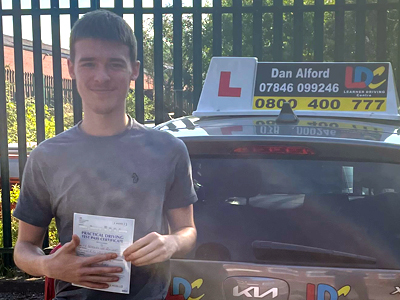 Bradley Bowers
Passed 1st
Dan is a very patient, considerate, and overall fantastic instructor who covered all aspects of the course which led to my success. He was always on time which helped with my confidence to learn quickly. Great instructor highly recommend.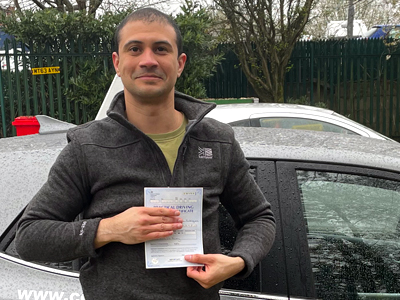 Martin Takeda
1st time pass
I found out about Dan Driving School while looking for driving instructors in my area and was reluctant at the beginning, but after the first lesson I knew with his teachings I would get my license for sure. Dan is very polite, kind, and professional when it comes to teaching, he always has his lesson plan prepared for you, but he can change it to address your concerns and worries. He is very respectful, but also knows when to be funny to calm your nerves. If I have to learn once more, I would definitely go for Dan again.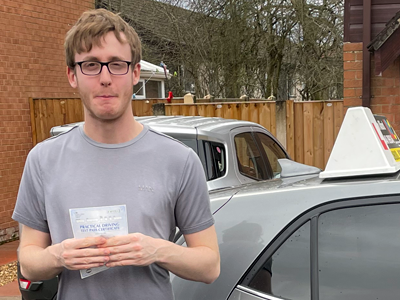 Matt Donnelly
First time pass
Recently passed my test first time with Dan. It was a great experience and he taught me very well. He explained everything in detail and was patient with me. I was nervous about the reverse bay park but he put me at ease. Would definitely recommend, great instructor. Matt.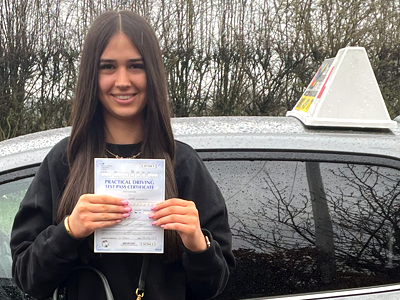 Lauren Cohen
Passed 1st time
I literally couldn't have passed without Dan! He is so friendly, funny and just great at his job. I wouldn't have passed if he wasn't my instructor !!!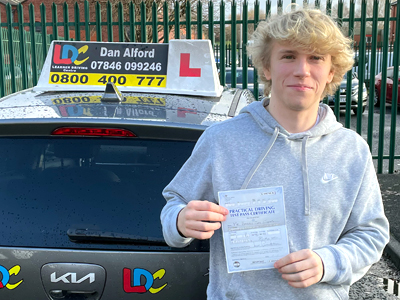 Harvey Jones
Passed 1st time
Started my lessons with Dan as a brand new driver. He got my confidence and skill levels up quickly and he explained everything in good detail. I'll be recommending Dan. Great instructor.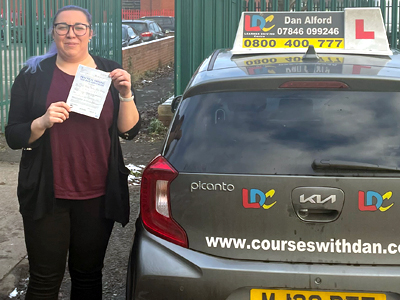 Emily
Passed
I took a test some years ago and failed. It was time to try again and Dan was professional and knowledgeable and really helped me learn what I needed to get through my test.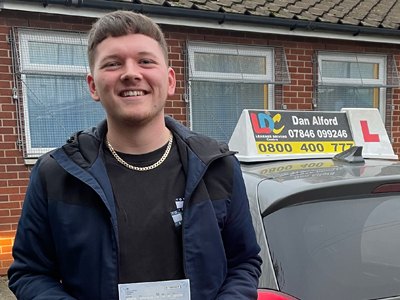 Jack
Passed 1st time
Dan was calm and understanding. Allowed me to make mistakes which is the best way for me to learn.
Olivia Tammam
Passed test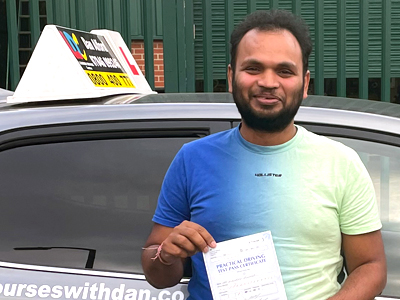 Gaurav Kumar
Passed test
Dan has been really helpful and patient with me. It has given me confidence and time to learn at my speed. He also gives you tips and tricks for complex driving conditions. I would definitely recommend him.
Olivia Tammam
Passed test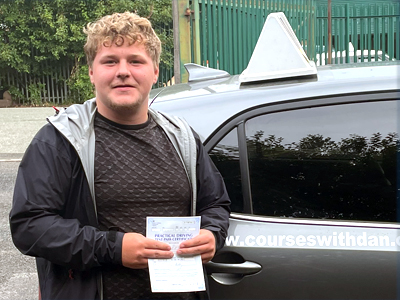 Lochlan
Passed 1st time
Passed quick. Enjoyed my lessons in a good atmosphere. Would recommend.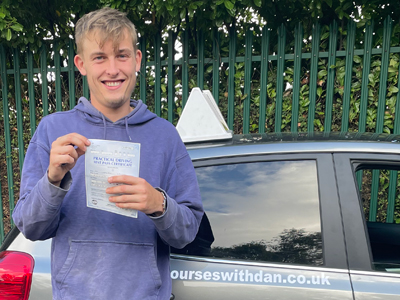 Cameron L
Passed 1st time
Great guy. Thanks Dan for getting me through it. Enjoyable lessons.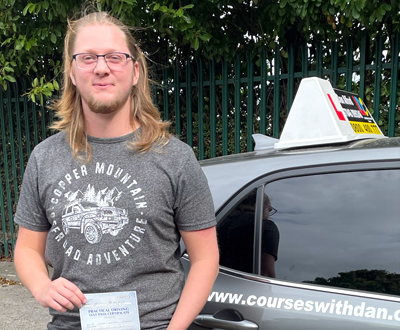 Nathan Ashley
Passed 1st
Dan was a brilliant instructor and encouraged and supported me really well to help me get over my nerves. Now very happy with driving and I enjoy it, something I didn't expect. Really glad I learnt and Dan was brilliant, cannot recommend enough.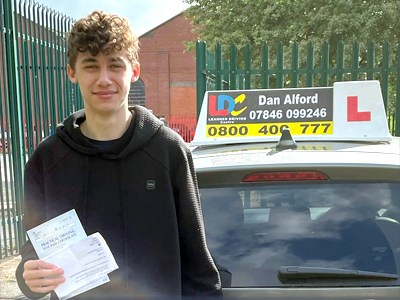 Louie Higgins
1st time pass
Dan allowed me to go at my own pace and made things simple. Recommended.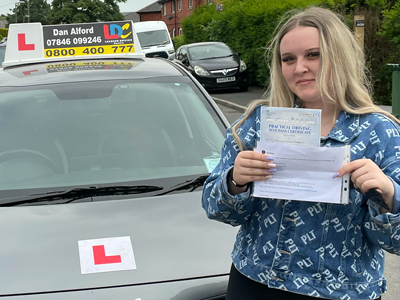 Alicia Forrest
Passed test
Thank you so much to my instructor, Dan Alford , who is patient, compassionate, professional, and a great motivator. He can make you laugh with his quips. He is a Good listener and very nice. He will teach you not only how to pass your driving test, but also how to be a safe driver.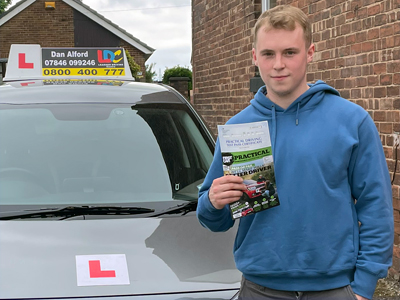 James Noden
1st time pass
I would strongly recommend Dan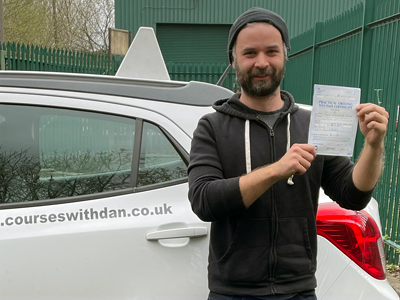 Louie F
Passed
Explained everything clearly them let me get on with it. Encourage me to work it out myself which really helped me.
Sanjna S
Passed 1st time
Dan has been a fantastic teacher from day 1. He has been continually patient even when I couldn't get it and when I wanted to give up, he talked me out of it and spent so much time exposing it to me. I had zero faith in myself being a very nervous driver but Dan kept telling me I could do it and was always honest about my progress. Highly recommended to get even a driver like me to test never mind pass first time with only 3 faults. Thanks Dan you are a star!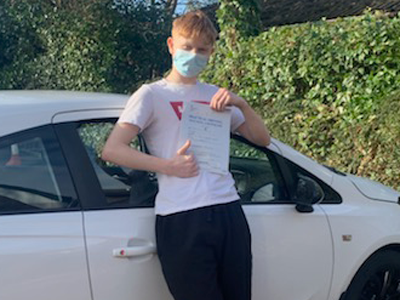 Joel Connelly
Passed test
Great courses. Liked the LDC system. Dan was a calm trainer who explained things in an easy and calm manner. Recommended.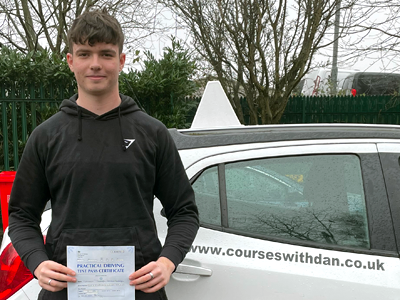 Connor Greenhalgh
Passed with only 2 minors
Excellent from start to finish. Was completely supportive during my first lesson. Making me feel confident and safe. As our lessons progressed I gained more confidence and responsibility but always felt safe. Dan is a top guy, very easy to talk to and get along with. He has lesson plans before you even get in the car which he adapts as you drive. Cannot recommend enough.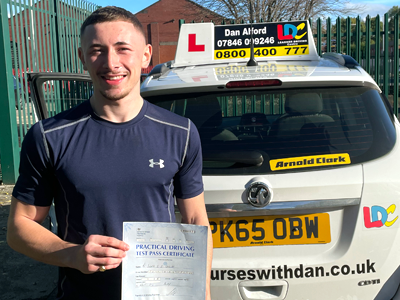 Joe C
Passed test
Thanks Dan. I couldn't have done it without you.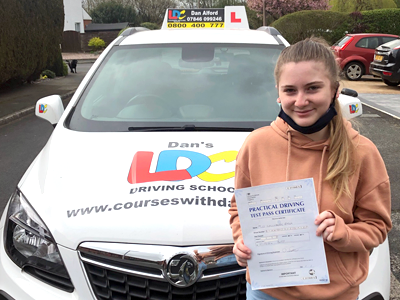 Emily Byrne
Passed test
I came from another driving instructor also a franchisee and was much impressed with Dan and the LDC system. Would recommend.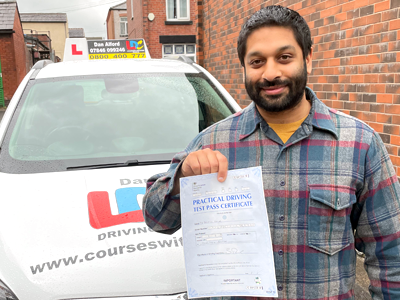 Bhavesh T
Passed 1st time
I highly recommend Dan, not just another driving instructor but a mentor who really does care about teaching the fundamental skills required to become a decent driver. As someone who lacked confidence, Dan instilled in me a sense of self belief and encouraged me to trust my skills. Along with passing on his technical knowledge in a patient and supportive manner, Dan is also quite a funny guy. Appreciate all the effort Dan, thanks for helping me pass both theory and practical first time.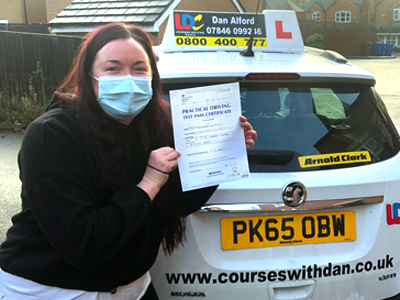 Fran Ludlow
Passed 1st time
Dan is not only a fantastic teacher but he is super cool! He makes you feel relaxed and calm because of his fun loving approach! I highly recommend Dan Alford for your driving needs. I was so lucky to have found him as he believed In me so much! That support lead on to me passing my theory and practical first time. I learnt to drive a bit later in life so I do think the older you get the less confidence you have but Dan knocked that out of me straight away! Thanks for everything Dan! Fran Ludlow x
Kieran Obrien
Refresher course
I would highly recommend Dan a driving instructor. having not driven since passing my test 12 years ago, I was incredibly nervous about taking that first step behind the wheel. Dan couldn't have been more reassuring and supportive and made me feel instantly calmer in the car. He is informative without being overly technical: calm and encouraging and he helped me to get over my fear and find the joy in driving again *****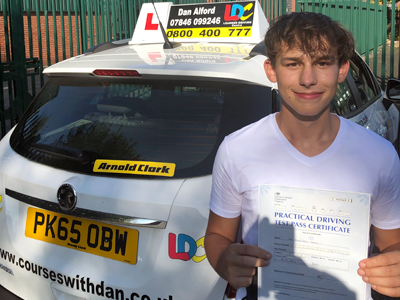 Alex Pavel
Passed 1st time
Dan is a very supportive and patient instructor who wants the best for his students. Throughout my time as his student I have learnt how to drive with no experience, and I have passed first time with only 4 minors. The price of the lessons are very reasonable and you do get value for money. I highly recommend Dan if you want to pass first time!
Stuart C
Passed 1st attempt
Dan is a friendly, calm and very reassuring instructor who helped me build both my skills and confidence on the road in no time at all. Passed my test at the first attempt and it doesn't get better than that! Really couldn't recommend him more highly! 5* Stu C.
Steve Haslam
Passed 1st time
Just completed my one week intensive course with Dan, what a great instructor. Calm head and easy to follow explanations. Had a great week. Dan is easy to get along with and knows how to put you at ease and help you get a big juicy pass at the end. Highly recommended instructor. A*
Mona Stavru
Just started
I have been through several driving instructor companies and not felt at home with any of them. Dan has made me feel confident and secure and I can see I am improving already.